First Certified LEED Home in Harding, NJ - A model practice of environmental stewardship and site regeneration
This New Jersey residence is a model for the practice of environmental stewardship and site regeneration. The design and construction process tells a story of inspired leadership, the incorporation of systems design, and design team synergy. Innovative landscape elements treat stormwater in unconventional ways. Plantings and site stewardship regenerate soils and groundwater.
Back to Nature as landscape architects, employed a whole-systems-thinking approach to integrate planning, and construction. We worked closely with the property owners, architects, engineers and consultants to blur the lines between interior and exterior spaces as well as between human and natural systems. To meet the resident's aesthetic and environmental goals the landscape architects created an innovative site design that focused on natural systems and processes to meet the functional needs of the site. In this whole-systems-thinking approach, natural elements such as water, soil, forest and wildlife became recognized stakeholders in the design process. Site regeneration (design to leave the site environmentally better after development) was an important consideration. Crews removed approximately 1.25 acres of invasive trees and shrubs.
PLANTS AS PRODUCERS/SOIL REGENERATION: The intensive use of plantings in the rain garden for function, habitat and aesthetics was inspired by the regenerative design approach for architecture and landscape. Their roles were diverse yet important. Disturbed areas were stabilized with meadow seed or perennial plugs rather than lawn. Perennial plantings played an important role in the environmentally innovative features of this site. In the place of dry wells along the entrance drive, vegetated swales were constructed to accept stormwater runoff. Plantings help to purify contaminated runoff and to slow the speed of runoff flow from the existing grades.
Long and broad sweeps of species such as Rudbeckia, Solidago, Aster, Pycnanthemum, Carex, and Panicum, installed as landscape plugs, thrive in the mixed sun/shade environment, reflect the regional native plant palette, and help to diversity the newly exposed edges of cleared woodlands. A similar palette, along with native shrubs, covers the slopes of the rain garden.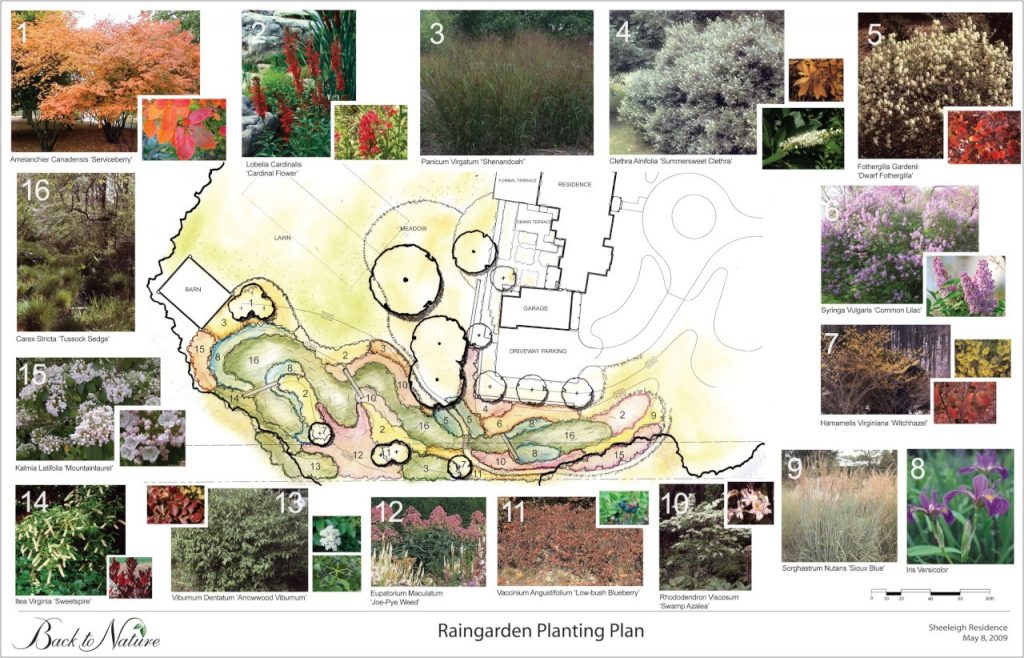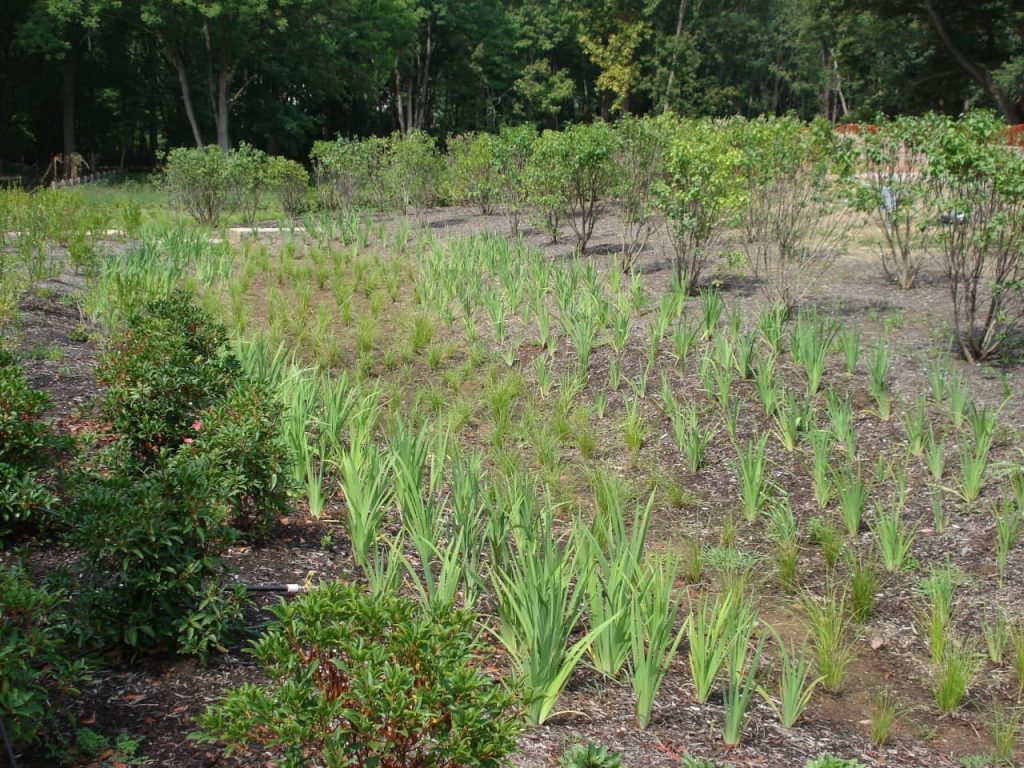 The rain garden starts to take shape during careful planting.
The rain garden acts as a natural filtration system.
Employing a whole-systems-thinking approach integrating site planning and design with construction, the process tells a story of ecological site regeneration and innovative landscape elements including a rain garden.
View of completed rain garden.
PLANTS AND SOILS: Native plants were selected and specifically grown to best match the unique natural conditions of this site.
MAINTENANCE: Long-term rain garden maintenance became an important element in the landscape design and plant selection. Plants had to meet important criteria: vigor, cold hardiness, heat/drought tolerance, no need for deadheading or staking, and resistance to disease and pests. They also had to fit with the woodland character and aesthetics. In keeping with
USGBC/LEED guidelines, landscape plantings were designed to survive without permanent irrigation after being established, the need for weeding and water decreased or ceased. Vigorous plant growth crowded out most weeds. Yearly mulching after a late winter cut back is done every year by residents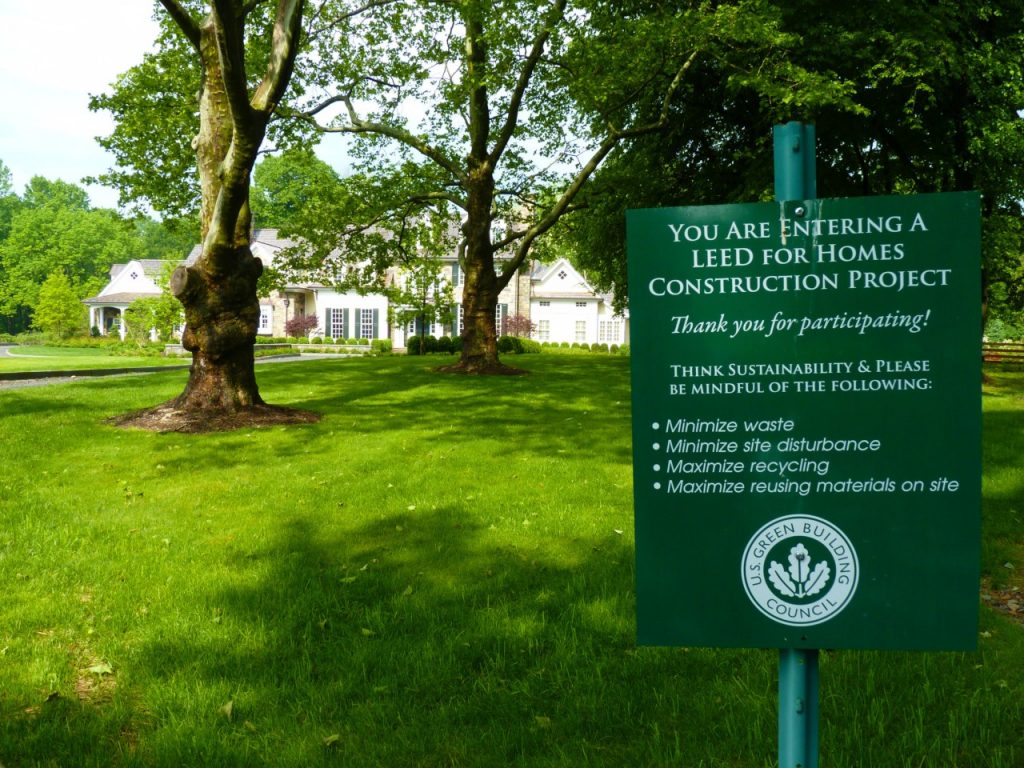 Naturalized meadow is not only beautiful, but does not require fertilizing or heavy watering.
Luxury landscape and sustainability
Design the best rain garden in New Jersey
Install low maintenance landscape that provides great habitat for wildlife
Incorporate an orchard to provide for farmland assessment
Harvest rainwater to incorporate into the project
Use natural materials in the landscape
Use meadows to improve the health of the natural environment