Residential Design and Installation
Master planning, design and installation services for a beautiful North Central New Jersey residence
For the design and installation of landscape around their new home in Bernardsville, New Jersey, these clients called upon the landscape architect who had designed their previous suburban residence. Their new home site, a secluded woodland clearing, offered the opportunity to create wonderful outdoor living spaces and called for a bold treatment in both built elements and plants. The large scale of the new home needed strongly scaled plantings. Site clearing for the new construction exposed woodland edges on three sides of the residence. Small trees, shrubs and perennial plantings soften these edges. Steep exposed slopes became broad canvases for sweeps of perennials and ornamental grasses that, with large plantings of spring bulbs, provide visual delight year round. Larger specimen-size evergreens were brought in to anchor the house to the land.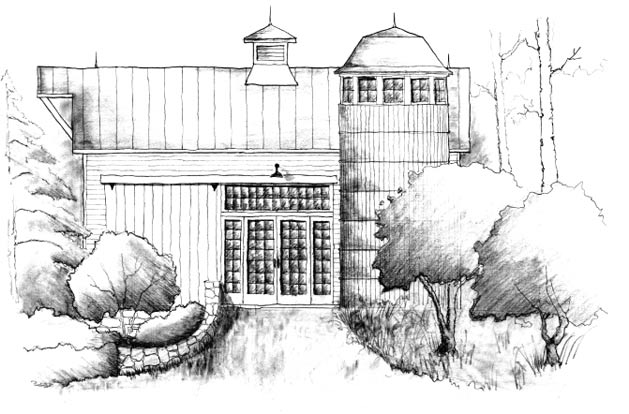 North and Pool Side Facade of Restored Barn
The design and construction style was intended to evoke a sense of time and history, which made the residence seem like it had been there for a hundred years, but it also reflected the client's personality and desires.
Luxurious pool that mimicked the shape and color qualities of a woodland pond.
Color and texture were selected carefully to provide sweeps of changing colors and textures throughout the four seasons. Broad drifts of early and late-blooming daffodils extend the spring while the perennial garden appears. Early flowering plants such as Senecio aureus and Euphorbia palustris grow quickly in the cooler spring. In the early summer Nepeta and Amsonia bring soft blues to the garden in contrasting textures. By later summer Pervoskia, Rudbeckias, and Echinacea provide strong colors and plant forms next to the relaxed, flowing foliage of Pennisetum and Miscanthus. In the fall, purple and blue Asters glow in the autumn sun next to the russet browns and reds of grasses such as Miscanthus purpurascens. And by Thanksgiving the garden has matured into a palette of browns, sepias and russets.
In the garden, perennials play a crucial role in the shaping of outdoor spaces. In open public spaces along the entrance driveway and garage parking areas, the rich textural assortment gives the owners a dazzling display of color and form that evolves over the growing season. Entertaining terraces, woodland edge swimming terrace and outdoor dining areas are shaped by plantings that delight in the way no built structure could. Smaller intimate areas such as the mother-in-law's terrace feel secluded but lush with texture and movement. Exquisitely built masonry terraces and walls shine next to these plantings which add flow and softness to hard areas of hardscape.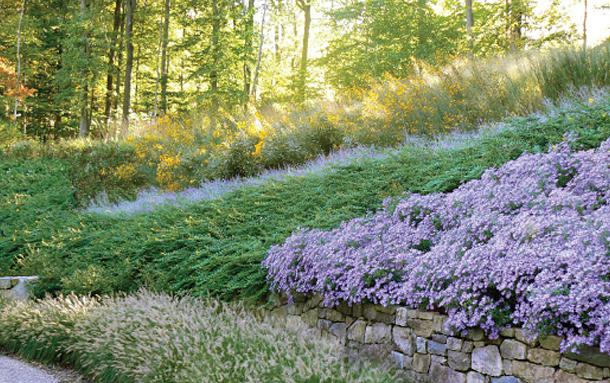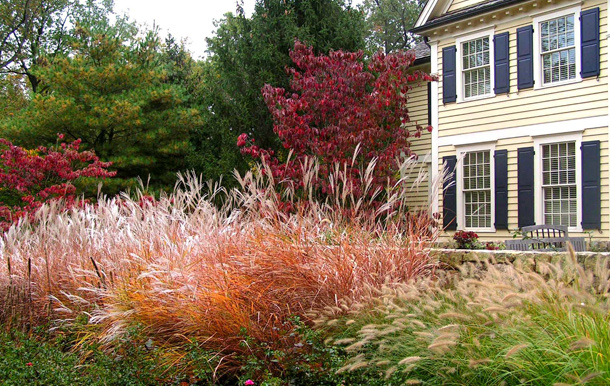 Massings of fall grasses and perennials wrap around the front entry court framing a more intimate garden space.
Conceptually, we approached this as an extension of the indoor spaces. A series of outdoor rooms, each with their own identity, for family gatherings, entertainment, and children's play.
Create strong relationships between house and landscape visually and physically.
Create biologically diverse gardens for strong four-season interest and wildlife habitat.
Reflect traditional feel of the home and the landscape to fit into the historic and agrarian environment of the surrounding community.
Swimming pool and pool house at woodland edge inspired by natural woodland ponds.
Large trees, shrubs, and perennial sweeps to soften the effect of large scale of house.
Rustic pool house (provided by restored barn) inspired by regional farm compounds.
Lawn and natural areas for a variety of outdoor experiences for the children.
Small orchard grove inspired by historic context of region.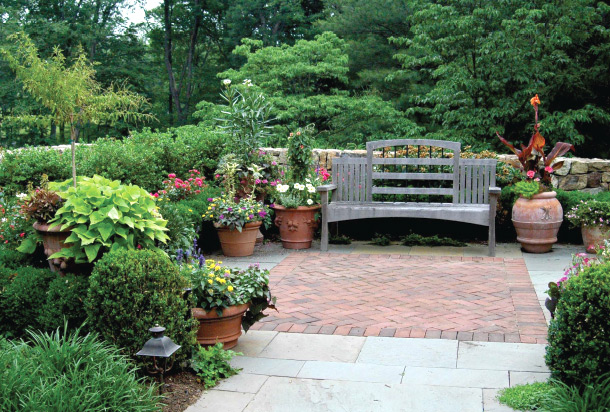 Container plantings and a custom designed bench furnish this outdoor foyer at the front door.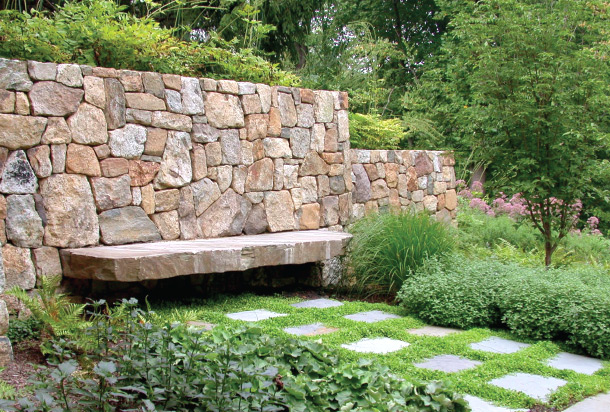 A cantilevered stone slab serves as a built in bench in the mother-in-law's garden.