120 acre site plan focusing on land preservation and eco-friendly home development
Back to Nature worked with municipal officials, property owners, and others to create an innovative plan for a 120-acre site in a community focused on farming and equine services.
Located across the street from a township park, planning for this site became a lightning rod in the municipality, and our plan was not immediately accepted. Back to Nature proposed the preservation of much of the site and creation of an eco-hamlet located in the corner of the property farthest from any scenic views or roadway viewsheds. The plan included small houses on small footprints and advocated the utmost respect for the land through the planning and development of the site, as well as in the end use of the site.
Despite the proposed protection of land and the small footprint of the development area, the community was not at first convinced that this design meshed with its essence and stated desires.
Sadly, the property in question was ultimately subdivided. We worked with state and county officials to permanently preserve the best prime agricultural soils on the site though acquisition of about half of the land to remain as a working farm. The rest of the property was sold to a private family that is using it as a residence and as a world-class equestrian center. The new owners retained our services as landscape architects and master planners to help them achieve their vision for the equestrian center.
Traditional residential developers use postage stamp development without concern for the naturally occurring landscape
Back to Nature offered an alternative plan to traditional development, site preservation and an eco-hamlet community that focused on farming and equine services was the focus of this ahead of its time plan.
The hamlet concept may have been ahead of its time in this community, but, local residents and state and local officials continued to discuss and think about the hamlet concept. They have realized that alternative forms of design are needed to create an environmentally friendly and diverse housing supply while preserving the rural character of the township. The hamlet concept has become so popular that the township has asked us to come back to find other places in their municipality where the concept might work. We are actively engaged in this process. We are also actively engaged with state and local officials who are interested in seeing our hamlet concept become a pilot project for an eco-hamlet design that can be rolled out across the state as an alternative to conventional development.
In order for a design, a plan, or a process to be regenerative, it must be able to continue on its own. This example of regenerative design drives that point home.
Use regenerative design principles to improve the health of natural resources
Use hamlet land use patterns to preserve open space
Use constructed wetlands to manage stormwater
Reduce turf grass to a minimum and planting native species meadows
Minimize the width of roadways
Architecture inspiration from local historic hamlets
Avoid the use of curbs
Plant native species along waterways
Renovate existing historic structures for guest housing
Landscape with plants that encourage wildlife forage for increased diversity of habitat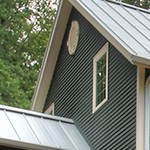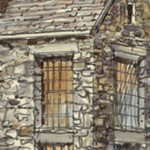 Repurposed Wood from Site